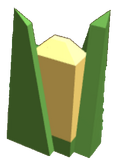 Corn is the most usual food item that might spawn in your island when "the gods create you an island and send you in it to survive".
It only restores 1 hunger. However, it can be used to create a "Maxstamina potion", which adds 1 max stamina bar.
The corn is rather spammable and is a common seed to be given to you by the gods. Because it's food, it's a mediocre-good item to give to the gods in early-game, but then a bad sacrifice, so it would be mostly used as a Potion ingredient.
Ad blocker interference detected!
Wikia is a free-to-use site that makes money from advertising. We have a modified experience for viewers using ad blockers

Wikia is not accessible if you've made further modifications. Remove the custom ad blocker rule(s) and the page will load as expected.