The Dooglefox is a randomly generated being with dark red lips, flint-colored skin, annoyed eyes and white fangs. It requests for a quantity of a certain item, such as logs, rocks, or apples.
The Dooglefox's rewards are based on how hard the item is to obtain. For every season that the Dooglefox isn't pleased, it will punish the world. Punishments include destroying half of all apple trees. However, once you drop the amount of items needed into the Dooglefox's glowing mouth, the Dooglefox will disappear. In place of it, there will spawn items such as gift-boxes, diamonds, rubies, eggs, apple pies, and seeds. A message will also appear in the bottom left corner, reading, "DOOGLEFOX IS PLEASED! HE DISAPPEARS AND LEAVES GIFTS!".
It's name is based on a ROBLOX player named "Dooglefox", homever, the "being" is nowhere related in looks or actions.
Dooglefox hasn't been sighted at all ever since the latest update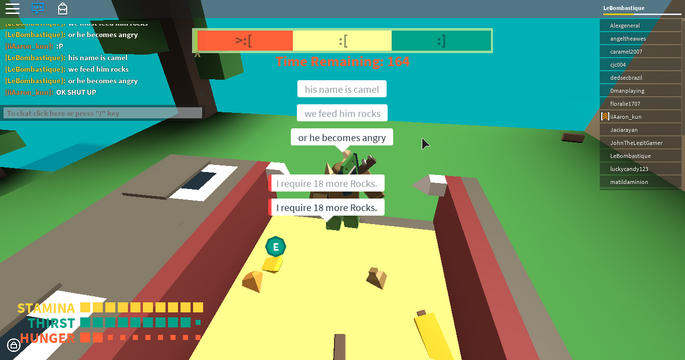 Ad blocker interference detected!
Wikia is a free-to-use site that makes money from advertising. We have a modified experience for viewers using ad blockers

Wikia is not accessible if you've made further modifications. Remove the custom ad blocker rule(s) and the page will load as expected.