Maapppps1223 is one of the best players in the game.. He once made it to Season 77 without any help. In every game he plays, they village ends up beating the giant chicken. He gives out diamonds and opens gift boxes for people when he acquires them. He is by far the top 5 players on Mount Of The Gods. He is on his way toward every mask. Right now, his main mask if Mask of the Lumberjack. Any player that has Maapppps1223 join their game, they are lucky. At that point, they know they will defeat the chicken...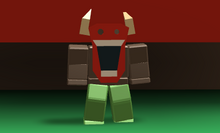 Ad blocker interference detected!
Wikia is a free-to-use site that makes money from advertising. We have a modified experience for viewers using ad blockers

Wikia is not accessible if you've made further modifications. Remove the custom ad blocker rule(s) and the page will load as expected.